Breakfast for Diabetics
Most restaurants don't offer a separate breakfast menu for diabetics. Fortunately, with a bit of planning and an understanding of what you can and can't eat, you don't really need one. While dining out is something you enjoy as a diabetic, when you prepare your own meals at home you have more control over what you eat, which is a simple way to control your blood sugar and insulin levels. Not sure what you make in the morning? Keep reading to find out. 
What Nutrients Your Breakfast Needs
You know that you need to control carb intake when you have diabetes, but that doesn't mean you should eliminate them altogether. In fact, you need some carbs for good health. Your body uses them for energy. The trick is to choose high-quality carbs, which digest slower, helping control your blood sugar. In addition to complex carbs, your meal should include some healthy fat and protein. You should also make sure there are some vitamins and nutrients. Luckily, this isn't hard to do and there are loads of options to choose from. 
Breakfast Options for Diabetes
Whether you're looking for breakfast for diabetics type 1 or you have type 2 diabetes, there are many foods that fit in a healthy morning meal. Not only can these options help you meet your nutrient requirements, but they give you the energy to get through the day and help control your diabetes. 
Oatmeal is a prime choice because it's packed with complex carbs and fiber. Prepare it with low-fat milk for protein and a handful of berries for a quick dose of vitamins and minerals. 
A breakfast sandwich made with a whole-wheat English muffin, tomato, avocado and an egg is another delicious choice. 
Try a whole grain tortilla filled with scrambled eggs, shredded cheese, diced bell peppers, onions and mushrooms. 
Or have a thin whole wheat bagel topped with peanut butter and sliced bananas.
Don't Forget the Water
Since you must watch your sugar intake, juice probably isn't the best choice for a healthy diabetic breakfast. Water is the ideal way to stay hydrated without raising your blood sugar. 
A glass of water with your morning meal gets you started with your daily quota and won't interfere with your symptoms. Choosing water also allows for the sugar in fruit so you can have a well-rounded breakfast. If you don't love water, have low-fat milk or unsweetened iced tea instead. 
Breakfast sets the tone for the day so start it off right with a diabetic-friendly breakfast that gives you energy and nutrition without causing a spike in your blood sugar. It's a great way to begin your day!
Download Klinio app!
Get more by downloading our free Klinio App. Analyze your health, form new habits and manage your diabetes anytime, anywhere.
OR
SCAN QR CODE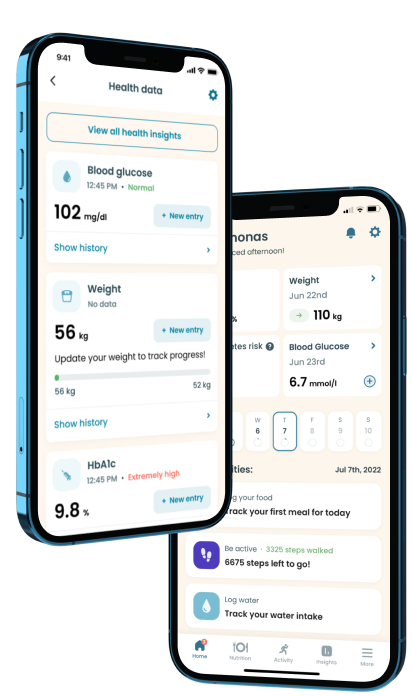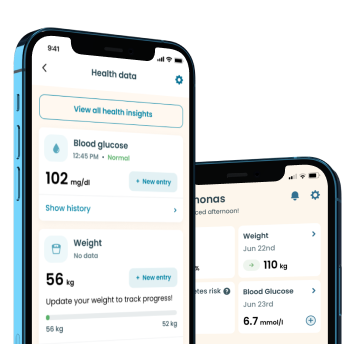 GET THE APP