Lasagna and Diabetes
Diabetes-friendly:
It's ok
Let's face it, we are addicted to carbs and not just because it's the body's fuel of choice for energy but because we typically eat food not just for its many health benefits, but for the many delicious tastes it offers. 
Carbs-heavy meals like Lasagna will always be a craving that just won't go away. Meals rich in carbohydrates such as pasta are known for spiking blood sugar levels after they are digested in the stomach. 
People with diabetes are well aware that high blood sugars can cause all kinds of problems ranging from excess fat, inflammation, and hyperglycemia. 
For every diabetic, it is in the way we manage carb intake. But does that mean we will have to strike off meals like Lasagna from our menu just to stay healthy? 
In this article, we will be dishing out wholesome information about lasagna and Diabetes.
Some spell it lasagna while others, lasagne. We will use both interchangeably for this article. 
This is a summary of what we will be taking into account:
The Meal called Lasagna

 Lasagne Nutrients

Can Diabetics eat Lasagna

Types of lasagna recipes for diabetes 

Lasagna recipes: How to make them

Frequently asked questions
The Meal called Lasagna
The history of lasagne has flamed many arguments as to where it all began. Greece, Rome, and even England in the 14th century but a few centuries later, this meal with layers of pasta and cheese has Naples, Italy as its place of humble beginning. 
Irrespective of what you believe is the origin of delicious lasagna, it is essentially a baked dish dressed with layers of pasta sheets known as lasagna. 
Lasagne from Napoli is made with pasta and ragu layers as well as ricotta cheese, sausage, meatballs, mozzarella, and less often, slices of boiled egg. 
Take a quiz
Discover what Klinio app can do for you
Healthy diabetes meal plan crafted just for YOU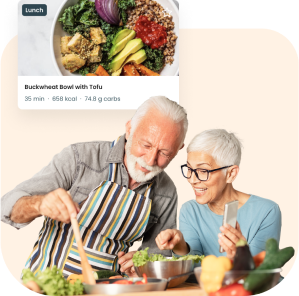 Personalized workouts with no equipment needed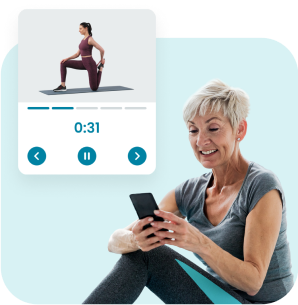 Track your progress with smart tracking tools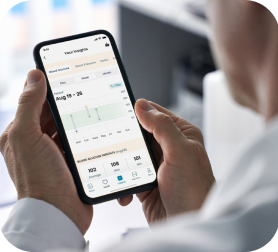 Take quiz
LasagneNutrients
Every great meal is packed with tasty nutrients and the lasagna recipe truly lives up to the appetizing standard of what can best be described as delicious comfort food. Depending on the ingredients, lasagne can be prepared with tomato sauce, meats, veggies and cheese. 
Most lasagna shares the following nutritional contents:
Fat and Protein
Lasagna, especially the meaty variety, comes with a rich source of both saturated fat and protein. The body needs protein as it converts it to amino acids which aid healthy tissues. 
A typical lasagna made with an ounce of meat and mozzarella cheese contributes (7.3 grams) and (6.8 grams) protein filled nutrients. 
The saturated fat that comes from ingredients like mozzarella cheese makes people living with diabetes to be cautious of this recipe. 
Carbohydrates
Described as one of the most addictive nutrients by foodies, Lasagna is carbohydrates heavy. If you have diabetes, this information will sound the alarm bells instantly in your head as this ultimately means starch and sugar - two dangerous nutrients to be wary of. 
As diabetes is a disease that can spike blood sugar levels or glucose in the bloodstream, any recipe with carbs must be taken in moderation and speaking to your doctor is expected. 
Vitamins and Minerals
Lasagna is known to help bodily metabolism because of the presence of vitamin B. Iron is also found when beef is used which helps circulation. Also, veggies like pepper, tomatoes and Zucchini are a rich source of vitamins A and C.
Ensure you make it a ritual to always the nutritional details on every product label as this will help you to know if the item is good for your body. 
Can Diabetics Eat Lasagna? 
Nobody enjoys that feeling of blood sugar levels running high; it's dangerous and that's why people with diabetes prefer to stay clear of any recipe high in carbs and calories. 
Sometimes just a simple look at a meal can signal danger to one's senses. Traditional lasagne recipe is dressed like a delicious poison to people with diabetes as its main constituents hold together white noodles, fatty meat or beef, and cheese. 
As the cliche goes, don't write a book by its cover, for lasagna, a few ingredient makeovers can transform this popular Italian recipe into a healthy meal. 
Lasagna made with white pasta (refined flour) is believed to cause an increase in blood sugar so it's best that you don't take any recipe, lasagne or spaghetti that has white pasta even though whole wheat pasta is a healthier option.
Also for any pasta rich meal, a moderate potion along with small additions of fats and proteins will help to ensure you don't experience blood glucose spikes. 
Still, there is no general rule of how to eat meals like lasagna because when it comes to balancing glucose levels, we all have our difference as to how we react. 
Your best bet is to contact a licensed health care provider before you add any recipe to your diet. 
At Klinio, we help you with analysis of microbiomes and other nutritional metrics to know what's best for you. Whenever you need advice on what to do as regards diabetes and your health, we will be glad to help out with any information you need
Types of lasagne recipes for Diabetes 
The internet is stuffed full of healthy varieties of diabetic recipes and lasagne is not left out. 
A number of delicious recipes including keto lasagna have managed to make some healthy adjustments without all the carbs but with all the tantalizing appeal. 
We take a look at a few of them revealing their ingredients and a quick explanation of how they are made. 
Lasagna Roll-Ups for Diabetics
Prep Time: 20 minutes
Cook Time: 40 minutes.
For this recipe, the ingredients include:
    6 rippled lasagna noodles
    1 pound lean ground turkey, 7% fat
    1/2 cup chopped onion
    1 can (15 ounces) of low-sodium crushed tomatoes
    1/2 cup low-sodium canned tomato sauce
    1/2 teaspoon dried basil
    1 1/2 teaspoons dried oregano
    1/2 teaspoon minced garlic
    1/4 teaspoon black pepper
    1/4 teaspoon crushed red pepper flakes (optional)
    Nonstick cooking spray
    1/2 cup shredded, part-skim mozzarella cheese
    1/2 cup chopped fresh parsley
How to make Lasagna Roll-Ups 
Your preheat oven should be regulated to between 350 - 375°F. Place your large pot and boil quarts of water over high heat. One at a time, add your whole wheat lasagna noodles. Allow to boil for 7-11 minutes while ensuring it's flexible but not too soft. Sieve out the noodles with cold water and place them on a baking sheet or large skillet in single layer. 
Next up, thoroughly cook your turkey (ground turkey breast) over medium heat till it crumbles to the heat and then break further into bits. Add crushed tomatoes, tomato sauce, basil, black pepper, oregano and probably a little of garlic and red pepper. 
Lower heat as you stir for a minute or two. Sprinkle a small portion of baking dish with cooking spray (nonstick) on each noodle separately. Add ¼ cup of meat or beef mixture to the noodles and then roll up from one end to the other. 
Place open-side down in the baking dish. Add remnant of meat mince or ground turkey breast over the top of the lasagna rolls. Evenly sprinkle cheese over the rolls and bake for between 20-27 minutes until the cheese is a bit brown. Garnish and serve
Zucchini Lasagna 
Prep Time:     10 minutes
Cook Time:     40 minutes
For this recipe, the ingredients include:
    1 large zucchini sliced thin lengthwise
    2 cups Ricotta cheese
    2 cup marinara sauce (low in sugar) 
    1 lb lean ground turkey I chose the Italian flavored one
    2 cups of shredded mozzarella cheese
    1/2 cup Parmesan cheese You can use more to sprinkle on top if you like
How to prepare Zucchini Lasagne Recipe
Cook your brown ground turkey and add a single cup of marinara to your turkey and then set it aside. Mix 1 cup of marinara sauce with 2 cups of ricotta. Spray your baking sheet with cooking spray. 
Line your layers of zucchini slices in the baking dish. Add a layer of ground turkey mix and a layer of ricotta mix (half of both). Continue to add layers of zucchini slices and the mix of ricotta and turkey. Place mozzarella cheese and Parmesan cheese on it. 
Bake for about 40 minutes at a degree, not more than 400. Remove and let it cool for 10 minutes. Grab a bite and enjoy all the health benefits it gives. 
Recipe Notes: This recipe is for 4 servings of lasagna.
Diabetic Lasagne
Prep Time:  20 minutes
Cook Time: 40 minutes 
For this variety, the ingredients include:
1lb hamburger meat
1 chopped onion
1 3/4 c water
1 pkg dry spaghetti sauce
1egg 
1 Tbsp parmesan cheese
1 can of crumbled tomatoes (28 oz.)
1 can tomato paste (6 oz.)
2 c fat free cottage cheese
 wheat noodles (uncooked)
1c low-fat mozzarella cheese
How to Make Diabetic Lasagna
After draining your brown hamburger meat, add salt, onions and a little garlic. Stir in tomatoes, water, spaghetti sauce and tomato paste. Allow to simmer for 20 minutes. 
Next, put it in a bowl and add egg, cottage cheese and Parmesan cheese. Spread layer of meat sauce in a casserole dish and then layer with whole wheat noodles, cheeses and meat. Cover and bake for 50 minutes. After it simmers cool, you can add fresh basil if you want.
Quite a lot of healthy lasagna recipes are out there and as it is with making healthy meals, creativity is very important. 
Ensure you check with your doctor before you join the adventure of making and eating any lasagne recipe. 
Frequently Asked Questions (FAQs) 
Why does lasagna have sugar?
This is because lasagne is rich in carbs which comes usually from starchy noodles but can also be from the tomato sauce or the vegetables. 
The body breaks down this carbohydrate found in lasagna slowly and converts it to sugar which is your body's favorite energy source. 
Should I avoid eating Lasagne altogether? 
Nutrition experts agree that when it comes to diabetes, there is no one size fits all kind of rule. People are different and their reactions to food and drinks are not the same even for a supposed healthy meal. 
As far as we know, the traditional lasagne is carbohydrate strong and if not taken in moderation, the challenges of it spiking your blood sugar level are almost certain. 
But we have detailed healthy lasagne recipes that appear safe for people with diabetes. Still, ensure you speak with your doctor before you adopt one to your menu. 
Does Lasagne interact with diabetes medications? 
Not a lot of studies have given much evidence to this but people who take insulin after eating pasta-rich meals like Lasagne usually experience low blood sugar. 
Always take medications as recommended by your doctor and ensure you equally speak to a licensed healthcare professional before you mix both. 
Bottomline
There is a reason why animated characters like Garfield and the average Joe out there, drool over this delicious Italian delight. 
This comfort food is packed with everything that the body craves including meat, cheesy goodness, Mozzarella, and other mouth-watering ingredients.
Consequently, checking nutritional information and avoiding popular meals lacking health benefits is the way to go with you are diabetic. To stay healthy and alive, you must constantly make your findings before you eat or drink anything. 
 
Download Klinio app!
Get more by downloading our free Klinio App. Analyze your health, form new habits and manage your diabetes anytime, anywhere.
OR
SCAN QR CODE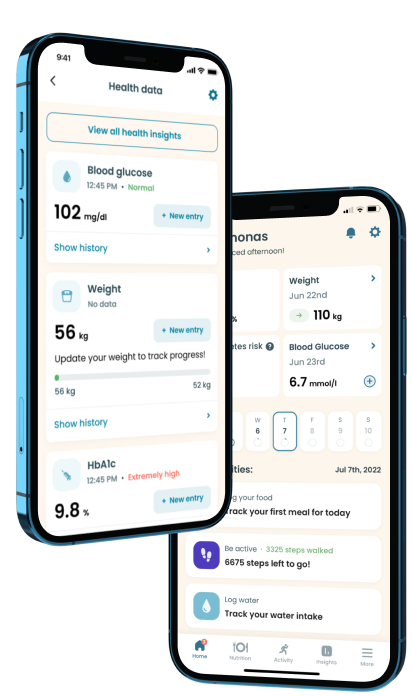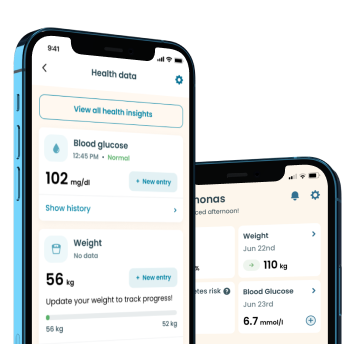 GET THE APP