Cauliflower and Diabetes
Calories per 100 g:
30 kcal
Weight management is essential for people with diabetes in managing blood sugar levels, and the foods you eat are the first place to start. Adding veggies into your diet is a great way to lose weight and maintain your blood sugar.
Cauliflower is a non-starchy low-carb veggie popularly eaten in its 'riced' form — a healthy substitute for high-carb rice. It is a rich source of vitamins and minerals, essential for optimal diabetic health.
Although it is famed for being very healthy and nutritious, what does science say about its anti-diabetic effects and safety? This article analyzes research papers and studies on cauliflower and diabetes, providing plausible reasons for its acclaimed benefits.
Nutritional value
Protein

1.98 g

Carbohydrate

5.3 g

Fat

0.1 g

Fiber

2.5 g

Sugar

2.4 g

Cholesterol

0 g
Nutritional Profile of Cauliflower 
Cauliflower is rich in dietary fibers, essential to slow down the rate of glucose absorption into your blood. You get as much as 2.14 g of fiber in just one cup of chopped cauliflower.
Its low-carb and low-calorie contents of 5.32 g and 26.8 cal per cup are perfect for losing weight and managing your sugar levels. Furthermore, it provides a low amount of sugar, fats, and sodium and relatively high quantities of minerals like potassium and phosphorus. These features explain why this cruciferous vegetable is commonly regarded as a "superfood" for diabetics.
However, how do these constituents manage diabetes exactly? We'll get to see that in the next section.
Take a quiz
Discover what Klinio app can do for you
Healthy diabetes meal plan crafted just for YOU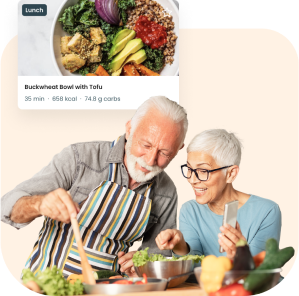 Personalized workouts with no equipment needed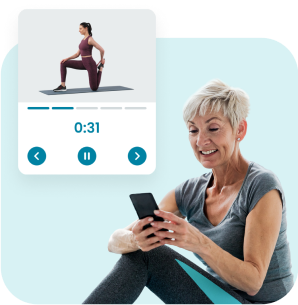 Track your progress with smart tracking tools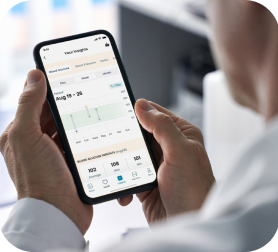 Take quiz
Health Benefits of Cauliflower to Diabetics
This section refers to key revelations in scientific research to point out the relationship between the intake of cauliflower and diabetes management.
Controls Lipid Profile and Manages Body Weight
Cauliflower plays a significant role in reducing serum lipid levels in the body, resulting in controlled body weight. In research conducted on 24 adult male rats, the effects of cauliflower were compared to that of broccoli when introduced into the diet. 
The estimation of lipid profile, serum glucose, kidney, and liver function revealed that cauliflower had a better effect on lipid profile than broccoli. There was also a considerable reduction in serum total cholesterol, total lipid, HDL-, VLDL-, and LDL-cholesterol by both veggies.
 In addition, there was reduced expression of vascular lesions, a significant complication induced by a fat diet.
Rich Potassium Source
Both serum and dietary intake potassium levels are associated with type 2 diabetes. To prove how critical it is in a diabetic diet, a deficiency of this nutrient, in some cases, low levels, is linked to greater diabetes risk. Thankfully, cauliflower packs a healthy amount of potassium, with a cup providing a whopping 320 mg (9.4–12.3% RDA).
In a Rowe et al. study, induced hypokalemia was linked to a reduced hyperglycemia-associated insulin release. More specifically, reduced potassium levels result in a decline in pancreatic beta-cell sensitivity. In light of this, including potassium-dense veggies like cauliflower in the diabetic diet is a practical step in overall diabetes management.
Does Cauliflower Pose Any Negative Threats?
While cruciferous vegetables—cauliflower and broccoli inclusive—might present beneficial health effects, research links them to an increased risk of type 2 diabetes. This is attributed to its glucosinolate content — a precursor of isothiocyanates (e.g., sulforaphane), potent phytochemicals with a proven antioxidant and anti-inflammatory effect.
Namely, in a review of three cohort studies covering 4.3 million people, individuals with the highest glucosinolate intake were 19% more likely to develop type 2 diabetes than those with the lowest glucosinolate intake.
However, further research is needed to understand and verify these claims thoroughly. Overall, the supposed ill-benefits that cruciferous vegetables present don't obscure their benefits. To be on the safe side, it's advised to consume them only in small portions.
How Can a Diabetic Eat Cauliflower?
Cauliflower might cause some side effects such as kidney stones, excess gas, and allergy. Hence, it's advised to confirm with your health specialist on its safety, judging by your blood sugar levels and existing ailments. You should also stick to minimal portions and consider the following recipe ideas:
Steam or roast with spice as a side dish
Grate and roast as a substitute for rice 
Combine with pizzas and wraps to make them healthy
Serve with hummus or yogurt-based dips as a healthy alternative to chips
Roast whole with spice and serve as a steak

 
Summary
Cauliflowers are a healthy addition to the diabetic diet. While it has promising benefits needed for optimal diabetes health, it does have some associated ill benefits due to its glucosinolate content. Hence, consume them in moderation.
Download Klinio app!
Get more by downloading our free Klinio App. Analyze your health, form new habits and manage your diabetes anytime, anywhere.
OR
SCAN QR CODE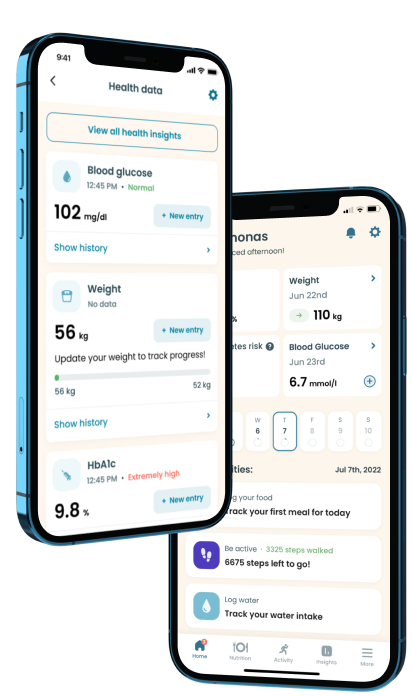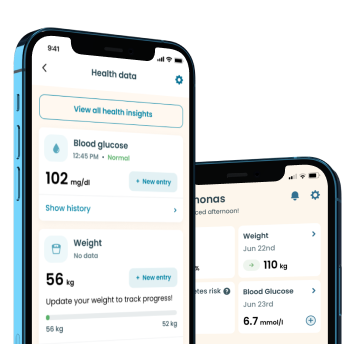 GET THE APP